Pulmo Care
00024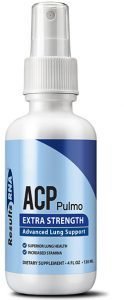 Lung Health & Stamina
Recommended by Leading Practitioners Worldwide
Pulmo Care Extra Strength promotes absolutely superior lung performance. Breathe deeper. Walk faster. Run farther. Enjoy an increase of stamina and endurance. Never before has there been one formula, which so specifically and effectively addresses the health and well being of the lungs. Maximize your workout by optimizing oxygen transport from your lungs into your bloodstream. Take Pulmo Care Extra Strength daily and reach out for your personal pulmonary peak.
-Care Extra Strength results are fast acting and safe.
-Usually significant benefit can be felt within the first month of product use.
-Continual use of Pulmo Care Extra Strength provides increased and continual benefit.
-Pulmo Care Extra Strength has no side effects.
Results RNA Intra-oral sprays provide a new age in nutritional supplementation. Enjoy instant absorption and profound efficacy. No more swallowing capsules or pills. Just spray, swish and swallow. Simple and refreshing, Pulmo Care Extra Strength has a mild, pleasant taste with a hint of natural mint.